Pioneer High School students from Kelly Jo Crisafulli's and Leanne Molenda's 6:1:1 classroom recently participated in a field trip where they had the opportunity to tour the Ronald McDonald House in Buffalo, NY. Student Austin Wagner, along with the Arcade McDonald's Owner Harry Schatmeyer, Manager Tammy Burton, and Supervisor Don Hayden presented a check for $1,200 to the Ronald McDonald House Charities of Western New York. Austin raised these funds through a community bake sale. Both he and his mother work at the Arcade McDonald's.
Each student and staff member from Austin's class was also gifted with a pair of Ronald McDonald socks thanks to the generosity of Mrs. Wagner and Mr. Schatmeyer. After the tour and presentation, the students were also treated to lunch at McDonald's.
According to Melanie Miller, CABOCES Work Based Learning Coordinator and CTE Business Teacher, "This was a very heartwarming field trip. It was so inspiring to witness one of our students take the initiative and follow through with giving to this important cause. Way to go, Austin!"
To learn more about the Ronald McDonald House Charities of WNY and ways to donate, visit their website at http://rmhcwny.org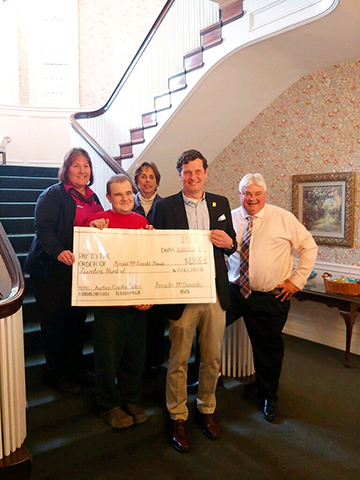 Pictured at the Ronald McDonald House of Buffalo are: (left to right) front – Austin Wagner, Arcade Arcade McDonald's Owner Harry Schatmeyer, and Arcade McDonald's Supervisor Don Hayden; back - Arcade McDonald's Manager Tammy Burton, and Sally Vincent (tour host from the Ronald McDonald House).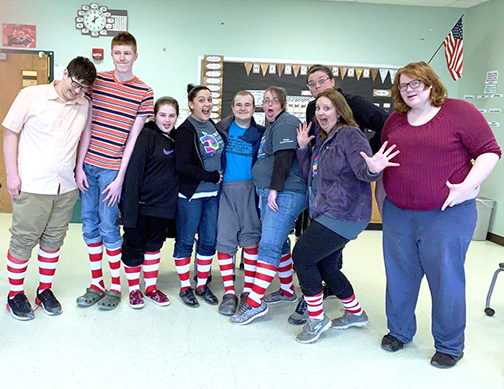 Check out our awesome socks! Austin Wagner (center) is shown with his classmates and staff from his classroom at Pioneer High School.